truRoots Organic Quinoa 100% Whole Grain Premium Quality, 4 lbs
truRoots Organic Quinoa 100% Whole Grain Premium Quality, 4 lbs
About the Product: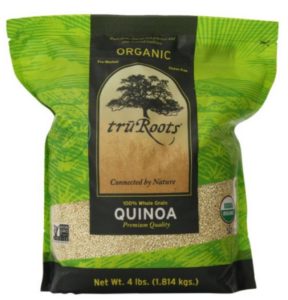 Pre-Washed, Gluten Free. Organic, 100% Whole Grain

From farms that use best practices and time-bonored tradition.

Premium Quality Quinoa

truRoots Organic Quinoa (whole grain) is considered a "super food". Organic Quinoa is gluten-free, has a mildly nutty flavor, high in protein and has a low glycemic index. This versitile grain can be used in hot or cold recipes alike and is quick and easy to prepare. Quinoa is a great alternative to rice and pasta. Visit www.truroots.com for delicious recipes and more information.